This post may contain affiliate links, which means if you click through and purchase something using our links, we receive a small commission.
Are you thinking about starting an email list? I'm sure you have heard that you need to have an email list if you want to be a successful blogger. 
While this is true, it won't make a lot of sense to you until you understand why.
Seasoned bloggers swear by having an email list because they have cracked the code, and we want to help you crack the code as well. 
In this post, we're going to talk about why you should be collecting email addresses and five essential things to do before starting your email list. 
Why should you have an email list? 
Email marketing is something that takes a while to get the hang of, but once you grasp the concept, you will begin to see the benefits.
There are several reasons why you should have an email list. The first reason is that you own your list. You manage your list and have control over sending emails to your subscribers. 
On October 4th, my Pinterest account got suspended in error for spam. Pinterest reactivated my account on October 29th. 
During this time, I was frustrated, but I didn't panic. I knew that my email list was in place, and my subscribers still got to hear from me every week.
Another reason that you should have an email list is that most people do not read all of your blog posts. 
There are a few bloggers that I love, but I never know when they post on their blogs. I do subscribe to their email lists, and when I read their emails, I can click right over to the blog post.
Emails are more personal than posts, and subscribers have the option to read them right in their inbox at their leisure. 
If you're still not convinced that you need an email list, check out 10 Simple Reasons Why You Need An Email List for more information.
Now that we have that out the way, let's talk about a few things you should do before you start your email list.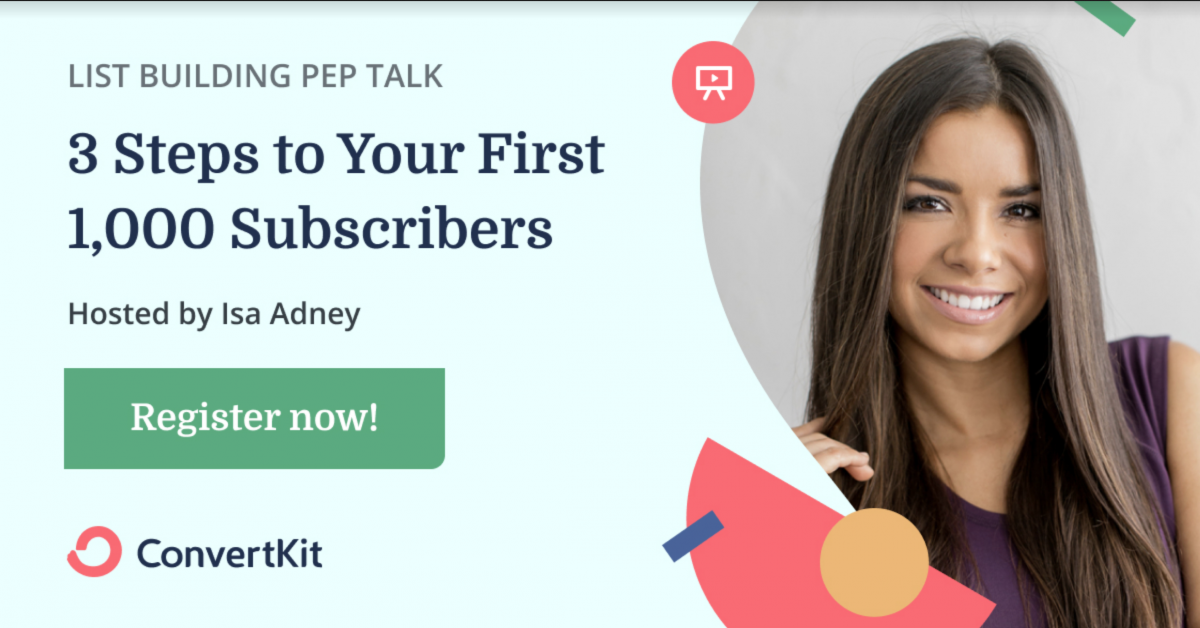 1. Select an email marketing service
Before starting your email list, you must have an email service provider. The email service provider is the platform that you will use to collect email addresses and send emails. 
At Beyond Basic Blogging, we use ConvertKit. It is one of the most popular email service providers, and we highly recommend them.
The emails and forms are easy to customize, and there are tons of tutorials on their website to get you started.
ConvertKit also offers a free trial, so you're able to get started right away.
If you're not making money with your blog just yet, we understand, and we have you covered. MailerLite is another great email service provider, and they are entirely free for your first 1,000 subscribers.
I use MailerLite, although I'm no longer on the free plan. I don't have any complaints, so don't be afraid to start with a free service and move to a paid service later. There's nothing wrong with that.
2. Create a freebie
Can you remember the last time you gave someone your email address? Was it at a store? Maybe another blogger or your favorite website?
Now, think about why you provided your email address. More often than not, we provide our email addresses to get something in return.
This is where your freebie comes in. Your freebie can be anything that enhances the reader's value on your website.
You want to make sure that you create something that makes your readers go, "Yes, this is exactly what I need!"
Freebies that convert the most readers into subscribers are tools that help them solve a problem or accomplish a goal. 
The most popular freebie for Beyond Basic Blogging is the Blogging Roadmap. 
The roadmap is something that a lot of bloggers need when navigating the blogging world, so it does well.
The easiest way to determine what you should create is to head to your most popular blog post. 
Read the post and come up with a simple worksheet, free ebook, or printable related to that post that could help your audience.
When you have your freebie in mind, it's time to create it. Use Microsoft Word, Powerpoint, or free software like Canva to create your freebie.
Don't worry about making it super pretty right now. Just make sure it provides value to your readers. Done is better than perfect for now.
3. Add your call to action to your website
Now that you have your email marketing service and your freebie, it is time to create your opt-in forms and add your call to action.
The opt-in form is the place that your readers will provide their name and email address to become a subscriber to your email list.
The call to action is a sentence or two that asks your readers to sign up for your email list.
Your call to action can be almost anywhere on your website. The most important places to put them are at the end of your blog posts, in your sidebar, and on your homepage. 
Read the documentation for your email service provider to create your opt-in form and add your call to action. 
When that is complete, add your opt-in form to your website, and you're almost ready to go! 
[convertkit form=796357]
4. Create a welcome sequence
Before you start your email list, you need to create a welcome sequence. A welcome sequence is a way to welcome your new subscribers.
You want to make sure you make a good first impression. 
Welcome sequences are helpful for your readers to get to know you. You should write 4-6 emails. 
Be sure to include an introduction, share your story, provide value, and give away your freebie in this sequence.
I know it seems like a lot, but it is worth it! Your readers will get to know you better and tell you more about their story as well.
If you need help with this, we are hosting a workshop on November 18th to help you create a full welcome sequence. Sign up at beyondbasicblogging.com/workshop to reserve your seat and come ready to work!
5. Create a plan for your mailing list
The last thing that you should do before starting your email list is to create a plan for building your email list. 
Once you get people on your list, you need to talk to them. The welcome sequence is only the beginning. 
So what are you going to say to your subscribers? How often are you going to write to them?
Let's start with what to say. 
A few things to send to your list include personal stories related to your topic, answers to common questions, roundups of trends in your niche, and a sneak peek of upcoming content. 
If you need more ideas, check out 6 Ways To Beat Writer's Block.
Now that you know what to send, how often are you going to send emails?
Some bloggers email their list a couple of times per week. Others send emails once per week or even once or twice per month. 
I like to email my list once per week. That's about all I can handle with my other responsibilities. 
Whatever you choose, be sure to stay consistent. There is nothing worse than your subscribers forgetting who you are or unsubscribing because they don't know what to expect from you. 
We know email marketing takes some getting used to, but it is essential to a successful blog. The goal is to grow your email list and make money. Don't lose sight of that. 
Leave us a comment below to let us know if you completed these steps before starting an email list.
Want to read later? Pin this to your favorite board on Pinterest!