This post may contain affiliate links, which means if you click through and purchase something using our links, we receive a small commission.
When you sit down to write, do you know who you're writing to? Who is your avatar? If you haven't put any thought into these two questions, you may be hindering the growth of your blog. It's time to learn how to write to your avatar in every post.
When I started blogging, it was a way to express myself. I didn't necessarily write to help others, but I hoped people would read about my life anyway.
I wasn't really trying to help other people, but that somehow my posts began to attract an audience. People are drawn to my story. I found out that other people were actually going through some of the same things that I was and they wanted to know more.
The thing is, I didn't provide them with more. I was literally just writing down my thoughts and problems with no solutions. Eventually, those people found other blogs to read and my traffic tanked.
When people come to a blog post they want to see themselves. They want to feel like they aren't alone and that they can and will get through whatever issues they are facing.
People don't want to read your story and feel more confused than they were when they got there. They want to know that there is a light at the end of the tunnel. This means that every blog post should be written specifically for your avatar.
Who is your blog for?
Each time you write, you should ask yourself who is this post for? Before we get too far into this the writing aspect, I want to talk a bit about your avatar as opposed to everyone that reads your blog.
The two are completely different. Your avatar is the person that you are writing to in each post. This is the person that you started your blog to help.
Your actual audience is made up of the people that actually visit your blog. These people may or may not be your avatar.
When you analyze your blog data, you will notice that your blog posts reach people that may not be your specific avatar. Some people end up on your blog to read one post and they never come back again.
Your avatar, on the other hand, needs to read everything you write. They are coming back to your website time after time to read the new posts and find answers to their problems.
This makes sense because your avatar is the person that your blog posts are targeting. This is the reason you should write to your avatar in every post.
Who is your avatar?
Before you can write to your avatar, you have to know exactly who you want to reach. Have you taken the time to discover your avatar?
This is a very important step and the success of your blog depends on it so don't skip it.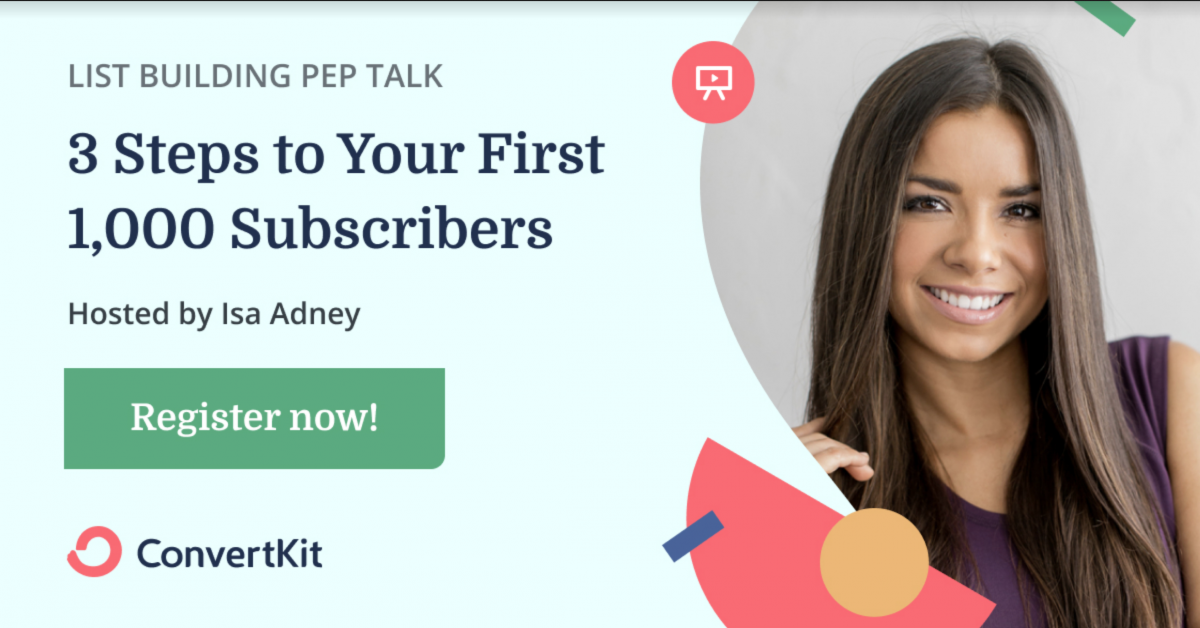 Sit down and really think about who your blog is going to help. What is this person struggling with? Do they have a family? What is the ultimate solution to their problems?
My avatar is a twenty-five-year-old college graduate named Coco that makes around $30,000 per year. She has a decent job and a supportive family. She also has student loan debt.
Her problem is that she knows that there is more to life than working just to pay off debt. She is trying to find the right balance between being an adult and living a full life.
I keep a picture of what I imagine Coco looks like (found a picture on Google) on my desk to remind myself that I'm writing specifically to her.
I didn't just come up with my avatar in one day. It took months of me refining the purpose of my blog before I could nail down my avatar.
If you don't quite know who your avatar should be or maybe you need help discovering your target audience, download our free avatar checklist for more information.
[convertkit form=938745]
Change your mindset
What is your mindset when you sit down to write a blog post? Do you just want to get words onto a page or are you writing to help other people?
This is something that you need to ask yourself before you write anything. In order to write to your avatar, you need to change your mindset. You also need to change the way you plan your blog posts.
Instead of talking about your issues, you should be helping other people get through these issues. How did you work through the problem? How long did this issue last? What can people do if they are in the same place as you?
Take yourself out of the equation as you begin to write your blog post. Put your avatar in mind and write specifically to them each time.
Find your why
Before you can write a really good blog post that resonates with your avatar, you need to know why you are writing.
Why did you start your blog in the first place? How did you get here? Where did you learn your information about this topic? These are great questions to explore because the answers will shape the content of your blog.
As a personal finance blogger, my why is to help people feel less stressed about their money. This wasn't always the case, but when I asked myself why I started this blog, my direction became clear.
My topics include making money, saving money, managing money. and practical living. I figured all this out by discovering why I wanted to start this blog.
Sit down and really ask yourself why. Why does your blog exist, why did you choose this topic, and why do you enjoy writing about it?
Find out what you believe
The next thing is to find out what you believe. Your beliefs go a little bit deeper than the surface. Everyone has opinions about different things.
If you don't believe me go to a few different blogs about blogging and see where each writer stands. You'll start to notice that even though people write about the same topics, they believe different things.
One person may think you need 1000 subscribers before you start to sell your own products on your blog while another person believes you should start selling products as soon as possible.
There's nothing wrong with either option, it just depends on what you believe. So for your own blog, dig deep and find out what you believe.
It's normal to feel like people won't always agree with you. The truth is, they won't. The purpose is to find out what you really believe because your avatar most likely has the same beliefs as you.
Determine how you can help people
After you find out where you believe, it's time to go even further and figure out how you can help others. What you do pertains to how you want to help people.
Do you create systems to help people complete things easier? Do you create shortcuts and hacks to make people's lives easier? What do you do that makes your blog stand out from other blogs?
I create content for millennials that are in debt, specifically with student loans, and trying to navigate life while having fun.
This is a pretty broad statement but it covers everything that I do. Every topic on my blog can fall under this umbrella.
In order to write to your avatar, you need to take some time to brainstorm exactly what you do.
After your brainstorm session read through it and refine your message. Refer to this statement when writing blog posts and you will find it easier to write to your avatar.
Write to your avatar
Now it's time for the fun part. It's time to actually write to your avatar. So far you have discovered your avatar and changed your mindset. Now the only thing left to do is put everything together.
Brainstorm a topic that your avatar needs help with. Think about one of the problems that they need help with immediately. Take a few notes on how you can provide a solution to this problem.
It helps to have a picture and description of your avatar on your desk as you write. When you see your avatar sitting there, you stay focused on writing only to them.
When you have a few notes, create an outline for the blog post. The outline should include an opening, body, conclusion, and call to action.
In the opening section, introduce your topic. This can be done by asking a question or presenting a few statistics. If you have a personal story that would resonate with your avatar, jot that down as well.
The body of the post should present the solution to the problem in bite-sized chunks. Create several sections with brief descriptions that your avatar can easily scan.
In the conclusion section of your outline, restate the problem and solution. You want to encourage your avatar in this section as well.
At the very end of the outline, add a call to action.
Ask your avatar to complete a task, download a freebie, or track their progress. Give them something to do after reading the post that can help them reach their goals.
When your outline is done, you should be able to create a blog post tailored to your avatar in less than an hour.
Do this for every blog post, and you will see your blog transform. People will start subscribing to your email list and you will build a loyal audience that can't wait for your new posts.
Try this for your next few blog posts and let us know what you discover. Don't forget to download the avatar checklist below if you need help discovering your avatar.
[convertkit form=938745]