This post may contain affiliate links, which means if you click through and purchase something using our links, we receive a small commission.
As a blogger, you hear all the time that the money is in your e-mail list. Big bloggers tell you to grow your list and focus on it until it reaches a substantial size. Some will even tell you the secret: Content Upgrades. These 5 Content upgrades will grow your email list FAST. 
But, before I get to that, if you're ready for a BLITZ on your e-mail subscription strategy- I recommend signing up for this FREE 1,000 E-mail Subscriber challenge. We not only talk about the best content upgrades, but show you how to create them, and how to market them. Enter your e-mail below to kick it off!
[convertkit form=821322]
What is a content upgrade?
A content upgrade is a digital product offered to a reader, usually, in exchange for an e-mail address, that is created for a specific blog post or page.
Bloggers often refer to content upgrades as lead magnets, opt-in bribes, or freebies. (You can see our freebies we give away here.)
There are many different types of content upgrades you could create:
Spreadsheet Templates

Workbooks

Checklists

Challenges

Cheat Sheet

List Post Bonus Content (5 MORE _____ )

Linked Resource List

Transcripts of a Video or Audio (like a podcast)

Video or Audio Recording

Walk-through Guide

Quick Start Guide (just the first steps)

White papers

Exclusive Interviews

Case Studies

Printable Page (Artwork, Quote or Diagram)

Ebook

Slideshare

Scripts (How to talk about ___ )

Free Trial

Teaser of a Product (1

st

chapter of a book)

Free Course

Raw Files

Images and Photos

Infographic

PDF version of your content
Why do you need a content upgrade?
Content upgrades bribe readers to provide an e-mail address in exchange for information. Offering content upgrades can increase your e-mail conversion rate, as much as 7 times as many subscribers.
Internet users are getting more skeptical and less patient. If they are new to your website, they want the answer to the question they searched for, and they don't trust you until they have the answer. To get a new user to give you their e-mail, you must bribe them with an enticing free offer.
In internets past, you could insert "Like this information? Sign up below" or a sidebar "subscribe now", and get subscribers. But those tactics are less likely to convert with today's savvy internet user. In fact, they may be blind to it altogether.
A new approach works better: Give me your e-mail and I'll give you this exclusive thing. However, not all content upgrades are created equal.
What makes a great content upgrade?
The best content upgrades are closely related to the blog post topic and solve a reader's problem immediately.
The closer your reader feels the content upgrade is to your blog post, the better the trust developed. The reader can see you are really trying to help them.
Then, you need to solve their problem. Readers love solutions; they want answers, without a ton of work, if possible
For example, if you are writing a post about planning for Christmas, you might offer a workbook that could help them think of all the events they're going to attend and write a schedule… OR you could make a pre-populated checklist with all the events they might attend with a spot to fill in the date.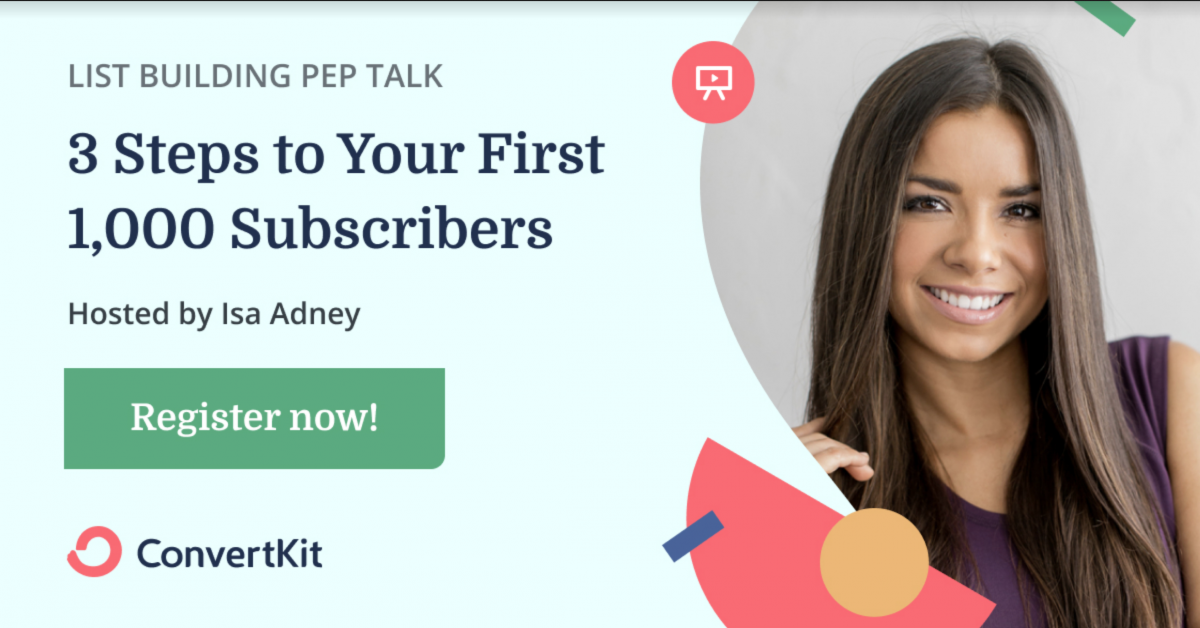 The easier you make it on the reader, the better the content upgrade will convert. In this case, "done for you" is gold.
Here are the 5 best content upgrades that will have your readers. So, out of that big long list of content upgrades you could create, here are the BEST 5 content upgrades to create that will convert your readers into subscribers:
Free Courses

Spreadsheet Templates

Workbooks

Checklists

Resource Libraries
Let's dig into the 5 best converting content upgrades. But before we get to that, I invite you to join me in this FREE 1000 Subscriber e-mail challenge. We'll help you create AWESOME content upgrades, and teach you how to market them to maximize your subscribers. Enter your e-mail below to start!
[convertkit form=821322]
Free Course
Offering a free course to readers provides a HUGE value that you can accomplish for a low cost. This makes it very enticing for readers of your post to enroll to learn more.
Creating a course sounds like a LOT of work, and it is. So, you should only create them when you have multiple posts that can link to the course. Free courses are great to offer if you have:
A Series of posts

Several posts on the same topic

A theme of the month
To cut down on the creation time, use the information from the blog posts to develop the course content. This way, you are reusing and reworking content that you know your readers are already searching for.
One key benefit to courses that you may not consider: if you drip the content of the course out over time, the subscriber will become accustomed to hearing from you on regular bases. That's why we recommend creating an e-mail course that goes out over several days.
How to create a free e-mail course
Creating your free course as an e-mail sequence is a great way to create that regular touchpoint with your reader. To create an e-mail sequence like this, you'll need an e-mail service provider.
There are many e-mail service providers, but our favorites are Convertkit and MailerLite. These make it easy to create a sequence of e-mails and connect that to your sign up form on your blog.
When you are developing your e-mail sequence, the content should always be related to the blog posts you are planning to send your readers to. This will start the relationship off with trust. It takes time to develop that trust into a loyal subscriber, but there are a few rules that will help you create trust quicker:
Each e-mail must deliver value– including your welcome and conclusion

Deliver upon the promise of the e-mail subject

Offer "extra's" that they can download
Readers love to be surprised with free gifts and bonus content. So don't be afraid to frame it up that way. If you already created a free printable for another similar post, mention "I want to give you this free printable" and your reader will feel like they really got something special– because they did!
Want more guidance on creating your own free course? Join our free course! The Get 1,000 E-mail Subscribers Challenge. Enter your e-mail below, then check your inbox!
[convertkit form=821322]
Spreadsheet Templates
Spreadsheet templates are a FABULOUS content upgrade for anything that requires tracking and/or calculations.
You can design them however best fits your content upgrade need, but some popular types of spreadsheet templates:
Calendars

Budgets

Progress Tracking (to a goal)
To create a spreadsheet template you will need a spreadsheet software. Two of the most popular options are Google Sheets and Microsoft Office.
There are many factors that will go into your decision, but the accessibility to everyone (license to the software) and the ability to share are the two reasons we prefer Google Sheets.
Why should you use Google Sheets for spreadsheet templates?
Google Sheets is a spreadsheet software provided for free with a Google Account. However, not everyone has a license for Microsoft Office, and so they may not be able to access it.
Also, they are easily accessible on a Google Drive without you having to worry where you should store it! You can share a link to the document so that it can only be viewed, but not edited (except by you). Then, your readers can make a copy, and edit it themselves. Just be sure to provide instructions.
There are many more reasons to create a freebie using Google Sheets. They can be interactive, so your readers don't have to do any calculations, the sheet will do the work for them.
If you know what you're doing, a Google Sheet can take less than 30 minutes to make from idea to creation.
Want to make your own freebie using Google Sheets? We'll teach you how in the FREE E-mail List Building Challenge to get 1,000 Subscribers. Sign up below, then check your inbox!
[convertkit form=821322]
Workbooks
Workbooks are a high converting content upgrade for your readers because they offer interaction, guidance and a "get this done" approach. When you create a workbook, you are telling readers that if they download this and fill it out, they'll be able to achieve success.
Some bloggers may refer to them as Companion Workbooks, Printables or Worksheets, but basically, we're after the same thing here: A document that you can follow along, fill in the blanks and work toward a goal.
While workbooks do allow for very high conversions, making them can take some time. So consider carefully the post that you choose to make a workbook for.
Here are 4 factors that might make your post a good candidate to create a workbook:
Your post is a top 20 traffic-driving post on your site

Your post has a clear need for guided Questions & Answers

Your post is

long

and your reader may prefer to download/print a guide

Your post has many steps that need to be done in order
How should you create your workbook?
You can use many different programs to create your workbook. Some of the most popular programs are Canva, Microsoft Word, Microsoft Powerpoint or Google Docs.
However, you should always convert the document into PDF format before sending it to readers. Instead of sharing a Google Doc (like we did with Google Sheets), PDF format preserves all formatting and is accessible for both Mac and PC users. With PDF Format, your reader can open, print and be working away in just a few seconds.
Also, design your workbook, with blank spaces for your reader to fill in as they go through the post. Remember, your reader will likely print this out and fill it in by hand, so you'll want it to easily accommodate. Here are some tips to help you:
Make blanks large enough to fill in with handwriting

Use colors that are printer friendly




(don't fill in boxes with dark colors and ask people to write on top of them)

Leave ample white space on the page. Readers may use this to take notes.
Want more great tips on creating content upgrades to grow your e-mail list? Join our FREE 1,000 E-mail Subscriber Challenge (enter your e-mail below)
[convertkit form=821322]
Checklists
Checklists are a simple content upgrade to offer to your readers. Checklists quickly address a need that you identify in your post (a list to remember, steps to take) so readers are happy to give an e-mail in exchange for the 'done for you' list.  
Checklists are AWESOME content upgrades for:
List Posts

How to or Step-by-Step Posts

Gift Guides (Checklist for people you need to buy for!)
Bloggers LOVE checklists because they are easy to make, simple to explain and convert readers into subscribers really well.
Readers love checklists because they get a sense of accomplishment when they check things off, and they know exactly what it takes to accomplish a goal.
How to create a content upgrade checklist?
Similar to workbooks, you can create your checklist in Canva, Microsoft Powerpoint or Microsoft Word. Also, you'll need to save your checklist in PDF format so that it can be shared and preserve the formatting.
With a checklist, keep in mind that readers may not print it out, but they might simply keep it on their phone to reference. PDF's are very easy to read on your phone.
Great checklists are simple and help the reader accomplish a task, one step at a time. There are a few key factors to designing your checklist that you should consider:
Bold branding – use your colors and logo

Big boxes – Give readers the satisfaction of a big checkmark

Simple tasks – Make each task on the checklist easy to understand, and not too wordy
Ready to make a kickass checklist? We'll teach you how in this FREE 1,000 E-mail Subscriber Challenge. Enter your e-mail below, then check your inbox!
[convertkit form=821322]
Resource Library
If you have created a bunch of different free offers with your e-mail course, one way to show a HUGE value to readers is by giving them access to a resource library. Access to all of your freebies at once is very hard to resist!
A resource library is a great content upgrade for:
Posts that don't have a specific content upgrade developed for them

Posts that reference several different content upgrades

Guest posts

Side Bar and Menu Bar
How to create a Resource Library as a content upgrade
To create a resource library, you'll first need the content upgrades or freebies that you'll put in the library. So, create some workbooks, checklists, spreadsheets and free courses first.
Once those are ready, follow the steps below to create a resource library:
Create a new page on your site that contains the links to each of your different freebies

Password protect that page

Create a new opt-in form for your e-mail service provider, like ConvertKit

Create an automation so that your reader gets the password to your resource library page

Add the opt-in form to your blog posts
Additionally, your loyal subscribers should know about the resource library (they'll feel like you gave them a HUGE gift!). So, in your weekly newsletter, send them the link and the password!
Why Content upgrade conversions matter
Creating content upgrades and offering freebies on your site is a great way to turn casual blog readers, who may have just found you with a search, into regular loyal subscribers.
Once you have a reader on your e-mail list, you can share new posts with them (and get traffic to your site), Additionally, you can share helpful resources and products with them that can earn you money. Then, when you are ready to launch your own products, these readers will be the most likely to be ready to buy!
So, which content upgrade are you going to create? If you need help deciding, try our FREE E-mail List Building Challenge where we teach you how to create each of these (and more) content upgrades, and how to market them for maximum exposure!
[convertkit form=821322]