This post may contain affiliate links, which means if you click through and purchase something using our links, we receive a small commission.
Have you ever opened up ConvertKit (or MailChimp, MailerLite, etc.) and stared at a blank screen? Did you ever start typing up an epic newsletter email for your digital marketing strategy, only to second-guess yourself and erase it all?
I've been blogging for over 4 years now, and trust me – it happens to all of us! It can be tough to know what your audience wants to read. You want to share yourself with them, but not too much. You want them to know about great affiliate products in your marketing campaigns, but you don't want to feel too sales-y. You want to inspire them, but not be cheesy. You want to send good emails, not garbage.
Luckily, writing emails for your audience isn't a one-and-done. You have plenty of opportunities to send great email content – but you have to actually, you know, send the emails! If you've struggled with what exactly to say to your audience, I've got you covered!
But… before we get to that, I want to make sure you have somebody to write to. Struggling to get subscribers? Well, this challenge will help you grow your e-mail list FAST, just enter your e-mail to join!
Here are 5 successful email newsletter template examples you can use to send personalized, useful and epic emails to your audience:
1) Personal Stories
There's a reason why we at B3 refer to Lauren as the 'email writer extraordinaire'. She is so personable and funny in her emails! Lauren truly "knows her avatar" – she knows exactly who she's writing for and therefore always sends out emails that I, someone who falls into her avatar, absolutely love.
Take a look at the example below – if you've never messed up a basic adulting skill, the email below might not resonate with you. But for Lauren's avatar? It's both funny and has them nodding along like, "yeah, I've done something like that too!"
But how does Lauren bring this around to budgeting (which is a topic she focuses on a lot with The Practical Penny)? And how can you do the same?
Keep your story short and bring it around to your topic
Look at the next section of Lauren's email: she effortlessly loops her story around the learning new things, like budgeting:
Focus on your avatar – Lauren knows she'll get her avatar to react to her story, but she also ensures her reader learns something in this email. By looping around her story to budgeting, she keeps the reader engaged. You can't do this unless you

know your avatar.
In a personal email newsletter, you could cover:
Funny stories and life lessons

Struggles your avatar can relate to

Behind the scenes sneak peeks of your life or business

What's going on in your personal life and how it affects your blog/business

A problem you solved for someone else that could help your reader
Always remember to keep your email short! If you're worried your story is too long or repetitive, type it out and come back to it a day later. Is it something your avatar would find interesting, or should you cut it down a little to get to the point faster? In general, less is more.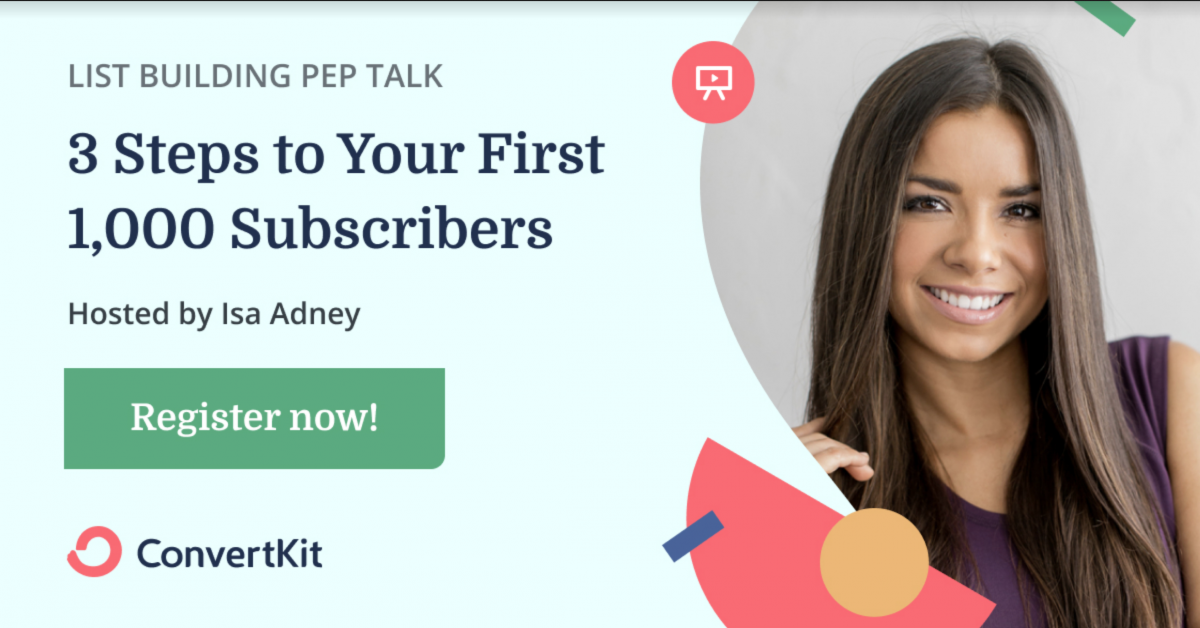 Don't have that robust of an email list yet? No worries – B3 has you covered! Sign up below for our How to Get 1000 Email Subscribers Email Challenge!
2) Answer Your Readers' Questions
Over the course of blogging, you'll get questions from your readers via email, comments, and social media. If you don't get many questions, join Facebook groups related to your niche and pay attention to the questions people are asking, then incorporate these into your email newsletter.
Someone who does this really well is Rosemarie from The Busy Budgeter. She often takes reader questions and incorporates them into her email newsletters (with the bonus of getting to share some of her most popular blog posts, products and affiliates!)
Answering questions is often one of the easiest email newsletters to write, and the longer you keep blogging, the more questions you will get.
Not getting a ton of questions from your readers? There are a few things you can do:
Try the Facebook strategy above – join Facebook groups related to your niche and keep an eye on questions people are asking (

hint: these people might be your avatar!

). Use those questions to build up your Q&A newsletter

Ask your readers! – at the bottom of your newsletter, ask your readers if they have any questions! It's a surprisingly easy thing to add on to the end of your newsletter, and it actually does work.

Poll them on social media – do you have a Facebook group? Setting up a poll in your Facebook group is one of the easiest ways to learn what your readers want.
You can ask them questions like: what would you like to learn more about? X, Y, Z (topics related to your niche) and you can ask them about what format they like to learn from. A lot of people like videos, but some people prefer you to create them workbooks and checklists.
It all depends on your niche – if your niche is workouts/health, your readers will probably want video instruction. If your niche covers saving money, they probably will prefer checklists and workbooks.
Poll them using Google – set up a Google Form with some questions for your readers. This can be demographic information or just straight up you ask them what they'd like to learn about or what they're struggling with.
3) Round-Up of Trends in Your Niche
Depending on the type of blog you run, you might want to do a weekly or monthly round-up of trends in your niche.
Social Media Examiner did this for the end of the year in social media trends, but Social Media Examiner will frequently send emails that highlight new changes to the social media landscape, new ways to use social media, and more.
Think you can't do this for your niche? Think again! If you're in the healthy-living niche, do a round-up email of popular and healthy trends. For example, if your readers are interested in the keto-diet, do a roundup that includes:
Something

informative

, like a study on the benefits of a keto diet

Something

fun

, like links to keto-friendly recipes

Something

inspirational

, like a fellow blogger (or a post from you!) of how the keto-diet made them/you healthier
Struggling to find material out there? I highly recommend using a service like BlogLovin to follow fellow bloggers in your niche. Visit their sites at least once a week and see what's being covered out there that you may have missed. Your readers will appreciate round-ups because you're doing the work for them!
Bonus homework: email the bloggers you featured in your round up and let them know you shared their article with your audience! It's always a good idea to build goodwill with other bloggers in your niche, and you never know – they could link back to you, or partner with you in the future. It never hurts to be generous!
Don't have that robust of an email list yet? No worries – B3 has you covered! Sign up below for our How to Get 1000 Email Subscribers Email Challenge!
Other types of round-ups also include "love lists" or "useful things" emails. Rosemarie from The Busy Budgeter does an excellent job of this as well, writing an email that is casual, beneficial to her audience – and also does a great job of sharing affiliate links!
Hint: You can send out a "things I love" list at any time of the year, but if you're planning on sending out a list of gift ideas, for example, try to send it out before the big day. For example, if you want to share a list of things you've bought for your Mom that she loves, send out that "love" list about a month before Mother's Day.
Paying attention to upcoming holidays and major events shows you're thinking of your audience (you want to help them!), and is a fool-proof way to plan your content so you're not wondering "what will I sent out this week?"
Bonus homework: Grab your calendar and find the next closest holiday coming up, then plan an email for 3-4 weeks before that holiday!
4) Tease Upcoming Content
Another easy email newsletter idea? Tease your recent blog post! Write up a short email that captures your reader's attention and makes them want to click through to read your blog post.
Below, Kristin from Believe in a Budget teases a short but effective 'click to read' blog post by telling us about her Word of the Year… but not actually sharing what that word is 🙂
You can also tease other things like:
Upcoming giveaways – let your readers enter before others have a chance to

Big announcements – sales on your products, upcoming changes to your blog, personal news, etc.

A new challenge or blog post series you're releasing

A new tool you've just discovered
All of the above suggestions have an aura of exclusivity or 'you heard it first!', which makes your readers (people who have given you their email address, which is not something people do lightly anymore!) feel special and appreciated.
5) Say Something Controversial (to Your Audience)
This can be somewhat tricky to pull off, so before you try it, make sure you know your audience! Done right, this solidifies who your avatar is and what your audience agrees with – plus, controversial posts often have higher email rates (usually on par with 'big announcement' or 'giveaway!' emails).
Kate Doster does this well when she has a "tiny rant" on email marketing. Kate knows her audience is other bloggers and bloggers who create products for their audience, so she knows a rant like this will resonate with her audience and make them curious about who she is talking about (and how they can avoid making the same mistakes themselves!).
This is a really good way to figure out your list, too. Below, Kate 'polls' her list to see where they are in blogging/marketing so she can funnel these clicks to different email funnels.
For example, the beginning blogger on Kate's list will not likely receive the same emails that the business owner will receive. This allows Kate to tailor her emails to each audience – and send them appropriate products or affiliate links, increasing her conversion rates. It's an all-around brilliant strategy if done well!
Recap: Use These Successful Email Newsletters Examples to Beat Writer's Block
You can and should use a combination of these email newsletter examples to connect with your audience and get over writer's block (at least for your emails!):
Personal stories

Answer Your Readers' Questions

Round-Up of Trends in Your Niche

Tease Upcoming Content

Say Something Controversial (to Your Audience)
If you don't have a big audience yet, it may seem like a waste of time to sit down and write an email to 10 people. But think of it as building your loyal group of friends: by sending them regular emails, you'll build goodwill and a connection to your audience. You'll let them get to know you, and you'll get to know them.
Consistent and engaging emails build trust and goodwill. It's the difference between your reader getting an email in their inbox and thinking "ugh, not another sales pitch" vs. "oh wow! I don't really have time to read this, but I love [you/your blog] so I'll click!"
Help your readers. Give them a reason to want to click your email, read your blog posts, and support you.
Don't have that robust of an email list yet? No worries – B3 has you covered! Sign up below for our How to Get 1000 Email Subscribers Email Challenge! We'll walk you through every step needed to step your email opt-ins, get loyal subscribers, and market your amazing work through social media.
Best of all? It's free! Sign up below!