This post may contain affiliate links, which means if you click through and purchase something using our links, we receive a small commission.
Chances are, you know why having an email list is important. As intermediate bloggers, we instinctively know having an email list is important – in fact, you probably have some sort of list right now! (Don't worry if that list is just you, signed up for some email platform with maybe only your mom and a friend signed up as 'subscribers.' We'll get to that in a second!) Here, we're going to show you the top 10 best email list building strategies for intermediate bloggers.
We've already covered the simple reasons why having an email list is important, including social media algorithms changing how your readers find you to converting readers into paying customers. If you haven't checked out that article yet, make sure you head on over and read all about why you need an email list here!
However, as intermediate bloggers, you might be worried that you're not growing fast enough. You've read all the 'how to grow your email list as a beginning blogger' and you get it – you do. But how can you take action and really get to that next level as an intermediate blogger?
Table of contents
But first, before we go on! How do you know if you're an intermediate blogger? Basically, you're an intermediate blogger if you've been blogging consistently for 6 months or more, you read and follow other successful bloggers (like Beyond Basic Blogging!) and you've purchased a course or two already. You're taking this blogging thing seriously and you really want it to succeed – whether because you want to one day quit your job and blog full time OR just make some extra money on the side, you're invested!
Okay, now that we've established you're definitely an intermediate blogger who is serious about growing, let's get into the nitty-gritty of growing your list – seriously.
Why is email so important?
Emailing your audience is crucial to your success as a blogger! As a blogger with an email list, you get unfiltered access to your audience. No one controls how you talk to your audience – your 'post' won't get bumped down by some arbitrary algorithm, there's no Pinterest to kick you off the platform for no reason at all (it's happened to 2 of us so far!), and your audience doesn't have to go anywhere or do anything. They just wait for your email to get to their inbox, and then they're yours.
In addition, a study by McKinsey & Company revealed that email is a significantly more effective way to acquire customers than social media. People who buy products marketed through email spend 138% more than those who do not receive email offers. If you need more proof, OptinMonster says that 99% of people check their email everyday. How many people do you think check every single social media platform every single day? I don't know about you, but there are definitely days I'll avoid social media simply because I'm too busy – but I'll always check my email "just in case."
Add all of that to the reasons Kamika mentioned in 'why you need an email list', including email is more personal than any other medium AND is something your audience actually wants, and you're beginning to see: email is crucial to your success as a blogger!
Why is email better than any other medium?
Yeah, yeah, yeah, you might be saying – email is important and I'll get to it. But right now, my Instagram game is killing it! Trust me – I get it! My Instagram game is also going really well, and frankly, it's more fun being on Insta than it is doing email sometimes. Writing emails can be a chore, whereas social media is a ton of fun!
But unfortunately, social media just does not bring the same returns as email does. Take a look at all the options you have in addition to email:
Facebook
Twitter
Instagram
Pinterest
YouTube
TikTok
LinkedIn
And more I probably don't even know about yet! Unfortunately, all this divided attention doesn't even bring you additional views. Take a look at this graphic from OptinMonster, which shows social media's overall engagement is only .58% compared to an email open rate of 22.86% and a click through rate of 3.71%! This means way more people are seeing your content via email than they ever will through diluted social media.
What does this all mean to you, the intermediate blogger? It means you don't need to stop on social media, but it does mean that if email isn't an integral way of how you communicate with your audience… you're going to want to make it a priority.
The best email providers
Real fast: STOP right here if you do not already have an email service! If you do not have an email provider, you cannot pass Go, you cannot collect $200 – you can't have an email list without using an email collection and transmission service! Sorry, but it's true.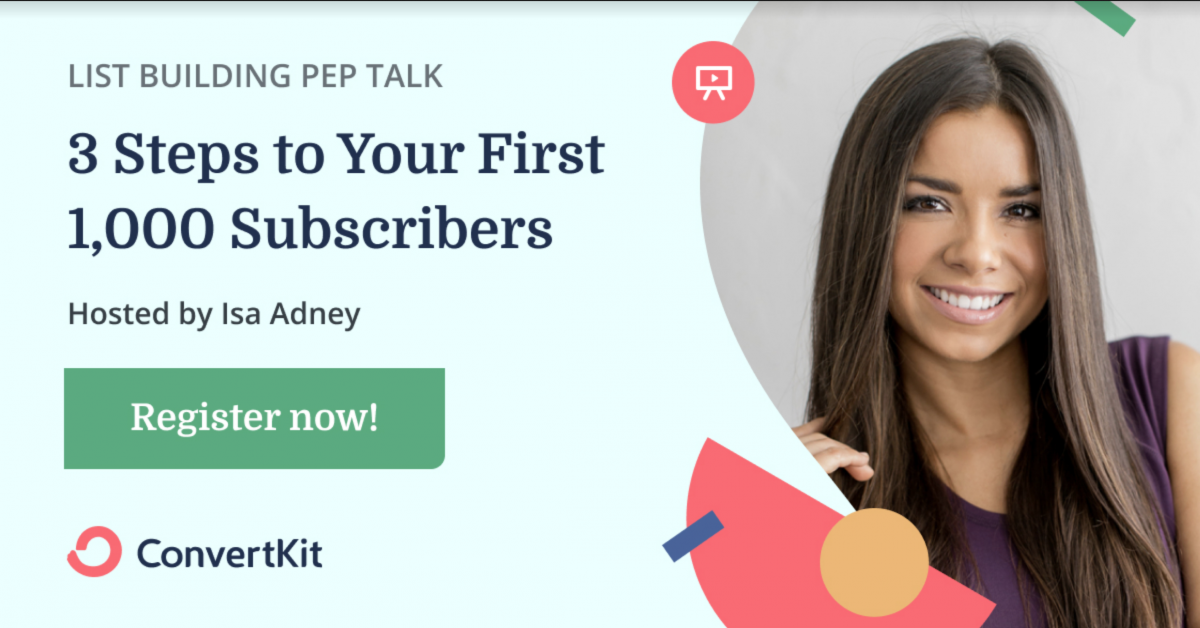 We recommend two email service providers (ESPs): ConvertKit and Mailerlite. Having used both myself, I'd say if you're on a budget and your list is under 1000 subscribers, go with Mailerlite. It's free under 1000 subscribers!
If you have more than 1000 subs or if you're open to paying a little more, sign up with ConvertKit. ConvertKit is eventually the email provider you're going to want to use, because it offers more options the bigger you grow and is just an easier platform, in my opinion. But if budget is an issue, which is totally understandable, sign up with Mailerlite.
Also, if you don't already have an email list, sign up for our free list building crash course here! It will walk you through everything you need to know as a beginner to quickly grow your list.
If you're not currently an intermediate blogger, here's a quick action guide you can take to get started and on the path of becoming an intermediate blogger!:
Sign up for our free list building crash course
Sign up for an email provider (I'd recommend Mailerlite if you're a beginner blogger)
Publish content consistently on your blog (or YouTube channel, podcast, etc.)
Email your list at least twice a month!
Struggling with what to email your list as a beginning blogger? Head on over to our 4 step strategy for writing email newsletters quickly here!
Evaluating your current list-building strategies
As an intermediate blogger, you may already have some list-building strategies in place. For the sake of this post, let's assume you have a couple of opt-in forms like "sign up for my mailing list!" or maybe something a little more sophisticated, like a targeted PDF download (aka 'content upgrade') for your audience.
You may have several content upgrades to grow your list, including the bar above, PDF download, additional content only for email subscribers, exclusive video content and more. If you're looking for content upgrades to grow your list fast, make sure you check out our 5 content upgrades to quickly grow your email list here!
Once you have your content upgrades or other list-building strategies in place, it's time to check their effectiveness! Mailerlite and ConvertKit make this very easy – in ConvertKit, simply navigate to your Landing Pages & Forms section to find your content upgrade/subscribe bar/etc., then look at the Conversion Rate. Below, I'm going to show you some examples and what you need to pay attention to when you're evaluating your current intermediate list building strategy.
Overall, this isn't too bad! "Isn't too bad?! It's a 49% conversion rate!" you might be saying right now. And that's a great conversion rate – I agree! But this particular form (it may be a PDF upgrade or some other content upgrade) has only had 281 visitors. It's not bad, but I would want this particular form to see a LOT more traffic to see if that conversion rate holds. Still, it's a keeper!
What's going on here? A lower conversion rate, yes – but still a good one (if you're getting around 20-30% in conversion rates, you're doing a good job). This particular form has seen a lot more action, too – 2,600+ visitors! This is a form I'd want to promote more, because it's doing a good job being seen and getting people to sign up for my list.
The second example above also shows me this post (or posts, if this form is on multiple posts on my blog) is popular, too. You want to put forms to collect email addresses on your most popular posts – take advantage of that traffic!
This example above is troubling. It also has received around 200 visitors, but only has a 3.8% conversion rate. I don't know if the content upgrade itself is unattractive or something my audience doesn't want, but this is a form I might think of getting rid of (or improving to make it more attractive to my readers).
For all the forms and landing pages you have to collect email addresses, do the exercise above. It will help you determine which list-building strategies and content upgrades are doing the best for you (aka getting more email subscribers) AND will help show you what is resonating with your audience.
Before we move on from this, really evaluate the data you get from the above exercise. Are you happy with the number of list-building strategies you're employing? Do you like your content upgrades? Are you doing enough of them? Which are the most popular?
Let's say you're a travel blogger, and one of your highest converting forms is about packing for a trip to Costa Rica in the summer. What does a high conversion rate and high number of visitors tell you? It could mean that people really like information on packing tips, or for tips on visiting Costa Rica.
Try creating more opt-ins on both – packing for a trip to (another destination) and 10 Places to Visit in (new destination). Then see which form and upgrade does the best with your audience – maybe it's packing tips, or maybe it's your suggestions for destinations!
When you're an intermediate blogger, list-building strategies are less about making a ton of things for your audience and hoping they stick. Intermediate bloggers take what they have and evaluate it all, then make the decision that best helps them grow. They take what works and replicate it, saving time and accelerating growth!
The 10 best email list building strategies for intermediate bloggers
Ready for the top ten best email list building strategies for intermediate bloggers? Get ready, because our top tips are below!
1) Easy – Re-purpose your top blog posts
This is one of my favorite ways to grow my email list. I take my top 5 blog posts and turn all of them into downloadable PDFs! It's simple, doesn't take a lot of time, and immediately converts. As an intermediate blogger, you should have at least 5-10 top posts, posts that drive traffic to your site everyday.
You already know these posts are popular – time to make them work harder for you by converting visitors into subscribers!
2) Turn a podcast into a content upgrade
As an intermediate blogger, you've probably been featured on other blogs, websites, videos or podcasts – right? (If not, make sure you're pitching yourself!). If you've been on a video or podcast, transcribe the juiciest parts of your interview and make it a content upgrade for your readers!
The best way to do this is to write a short post about your interview/video, and share a link to the site. Talk about why you went on the podcast/video, a few things you talked about, anything you found interesting about the experience, why you chose that particular podcast or YouTube channel to be on – and then pitch your content upgrade!
It doesn't have to be anything long – you can get the audio transcribed using a service like Rev, or take your own notes and turn it into a one page PDF.
3) Create a downloadable PDF of your favorite resources for X
This is another one of my favorite freebies to create! It doesn't matter what type of blogger, every single blogger can benefit from this list-building tactic! Let's say you're a personal finance blogger. Create a downloadable PDF (using Canva) that features all of your favorite cash back apps. Or your favorite savings apps. Or budgeting apps. Catch my drift?
Get nitty-gritty! By getting really specific with your 'Top 5 Products for X (Saving Money, Earning Cash Back, etc.)", you'll see which PDFs are most popular – than thus, what your audience wants you to cover more!
4) Promote on Pinterest!
As an intermediate blogger, you probably have a pretty robust social media presence, right? If so, use your social media network to grow your email list! Promote your content upgrades with their own specific Pinterest images. Make 3-5 new Pinterest images that entice people to click through and download your content upgrade.
5) Highlight your best PDFs on social media
If you've been paying attention to your conversions, take some of your most popular PDFs, create a Pinterest image (and Facebook and Instagram size) using Canva that highlights these popular PDFs, and promote your Resource page on Pinterest and other social media channels!
6) Find a new audience
If you've put guest posting on other sites on the backburner, go back to it! Remember what I said about being a guest on podcasts or YouTube channel? Check out other people in your niche on podcasts or YouTube, and then offer to be a guest on their show or channel. This will get you new exposure – and new email sign ups!
7) Run a giveaway
This is typically a new blogger strategy, but it works well for intermediate bloggers too – especially if you're trying to grow a channel like social media. You can partner with others in your niche, ask a company to provide an item for free to giveaway, or even purchase something yourself. Just make sure it's what your audience wants – you'll never get quality subscribers running a $100 Amazon gift card giveaway!
8) Make people want to open your emails!
Contrary to popular belief, longer is better when it comes to subject lines! According to OptinMonster, subject lines with 98+ characters were opened 54% of the time.
Make the emails to your audience high quality and interesting – take a look at these email newsletter templates if you're stuck for ideas!
9) Never stop learning
One thing I love about blogging is all of the resources out there for being a better blogger. From the Genius Bloggers Toolkit to individual courses, there are tons of ways to get better at different aspects of blogging. If you want to grow your email list and have the bandwidth to take a new course, I highly recommend our How to 10X Your Email List course. It's super in-depth for intermediate bloggers, and you get access to all of us B3'ers if you have ANY questions (or want to have us review your emails!).
There are other email list building courses out there too, but just make sure you have the time to implement what you're going to learn if you want to sign up for a course. There's nothing worse than being excited about a course but not having the time to actually take and implement it!
10) Encourage your readers to share
There's nothing better than authentic engagement. On your blog AND in your emails, ask your subscribers and readers to share your content if they liked it! It can be as simple as a Click to Tweet, asking them to forward your email on to their friends, or giving them an easy way to share on Pinterest.
People are naturally curious and more interested in things if their friends/family recommend them, so use your fans and readers to help you grow.
The Best Ways to Grow Your Email List as an Intermediate Blogger
We covered a ton of tips today about growing your email list as an intermediate blogger, so let's just do a quick recap. If you don't have an email list yet, you need one! We recommend two email service providers (ESPs): ConvertKit and Mailerlite.
Mailerlite is better if you don't have many (under 1000) email subscribers, and ConvertKit is better if you have 1000+. To grow quickly, take our free list building crash course here.
Once you have your list, are producing great content on your blog, and have evaluated which content upgrades and posts are doing the best for you, it's time to accelerate your growth! Try the following tactics:
Turn a podcast (or video appearance) into a content upgrade
Find a new audience using other mediums, like podcasts, YouTube channels, and giveaways with other social media influencers in your niche
Ask your fans to recommend you to their friends and family!
Which of these tips do you think you will implement on your blog?